Almont North Dakota
1906 Centennial 2006
Nyquist Family History
The information and photos on this Section was submitted by Audrey Henke, daughter of Mimi (Nyquist) Hoger.
Nyquist Family General History
Mr. and Mrs. William Nyquist
by Ingeborg Nyquist Trovik.

William O. Nyquist was born in Lulio, Sweden 1878 and came to the United States with his parents in 1892. They settled in Isabella, Michigan. After growing to manhood he worked in logging camps for several years. Mrs. Nyquist, nee Anna Maria Lang was born near Randers, Denmark in 1881 and came to Escanabe, Mich. in 1902 where a brother was living. She and William Nyquist were married in Oct. 1903. Mr. was a carpenter and for several years was engaged in building houses for the Bay De Noc Lumber Co. in Nahma, Mich. a town five miles from Isabella near Lake Michigan. They also owned and operated a small farm. Five children were born to this union, three daughters and two sons, one daughter died at the age of three and a son in infancy.
They lived in Isabella until the summer of 1918 when the family moved to a farm south of Almont. In 1920 they moved into the town of Almont where Mr. Nyquist opened a shoe repair shop and cream station. He died in the fall of 1922 after a year's illness. In May 1923 Mrs. Nyquist purchased a house owned by Miles Adams, one of the earlier homes in Almont. She continued to operate the cream station for the North American Creamery Co. for several years and also did practical nursing.
In May 1926 she took over the Northwestern Bell Telephone Exchange which at that time was housed in the Farmers State Bank. The switchboard was moved to her home. Her hours were long; from 7:00 A.M. to 9:00 P.M. She also took emergency calls outside of regular hours. She was assisted by her son and daughters when they were at home. As time passed three rural lines were added and a larger switchboard was installed but still manually operated. She operated this exchange for seventeen years.
Ingeborg graduated in 1926 and taught school for five years before marrying Fritjof Trovik in May 1931. (Editors note: They had one daughter, Gwen. Ingeborg taught for many years in the Almont schools and Fritz operated a trucking business.)
Mimi graduated in 1927, she taught in the Judson area that fall, where she met Oscar Hoger. He was operating his parents farm. They were married in Mandan in August 1928. His parents moved into New Salem that fall. Oscar and Mimi became owners of what was his parents homestead, each having filed on a quarter of land when they came here from Germany.
Oscar and Mimi had two children, a daughter, Audrey and a son Glyn, who both attended their rural school and graduated from New Salem High School. She taught school for two years, then married Kenneth Henke in June 1949. They reside on his parents farm northeast of Hannover. They have two daughters and three sons; Mrs. Charles Cartwright, (Valerie) who live in Washington, Mrs. John Lambrecht, (Vicki)in Detroit, Mich., Ross and his wife in St. Louis, Mo., Randy and Rickyt at home, Randy has gone into dairying on the home farm, Ricky is a junior in Center high school.
Glyn was in the service for two years in Germany coming home in May 1958. He went into a dairy partnership with his father which they operated together for several years, he now owns it and has enlarged it. He married Nancy Smith of Hankinson in 1960. They have three children, Kim, a student at Mary College, Scott, a sophomore in high school and Susan a third grader.
Oscar and Mimi continued to live on the farm and be actively engaged in its operation. They moved into New Salem in 1975, but Oscar still spent much time on the farm, they also kept up their farm home. They were active members of Zion Lutheran Church, where they celebrated their fiftieth wedding anniversary in 1978. Oscar had many friends, who with his devoted family deeply mourned his sudden death in Dec 1979. Mimi continues to live in New Salem and is active in the church, the Judson Homemakers Club of which she has been a member since 1937 and in teaching classes in 4-H
Henry graduated from (Almont) high school in 1930, he did carpenter work and operated a small shop (in Almont) for some time. He was inducted into the Air Force in early 1942, and was stationed at Lowry Field, near Denver, Colo. before being transferred to Spokane, Wash in 1943. He married Eleanor Schwartz of New Salem in April 1942. She died in Oct. 1943 when twin daughters were born to them in Spokane. He was later transferred to Sioux City, where he was discharged from the service in 1945. He continued to live in Sioux City for several years where he operated a cabinet shop. He also remarried there and they had one daughter, Gretchen who continues to live in Sioux City, where she has a managerial position in a hospital.
Henry's mother (Anna) went to Spokane and brought the twins, Adelaide and Eleanor home with her and cared for them until they were five and a half, then she took them to Sioux City. Adelaide is a registered nurse and has worked for several years in the university hospital in Iowa City, her Alma Mater. She has also attended the University there pursuing a Doctorate degree in Art History and has done some teaching in this field. She did some of her research for this degree in Europe. She continues to live and work in Iowa City.
Eleanor attended more than one college, then she taught in Oneonta, New York for a few years before going to the University of Kansas, at Lawrence to complete her work for a Doctorate degree in Speech, Drama and Costuming. She did some of the research work for this degree in Europe, primarily in Sweden. While at Lawrence she met and married Dr. Bobby Patton, who heads up the Speech department of the university and is the author of several books.
Henry and his wife moved to Colorado in the sixties where he was employed at the Butler Manufacturing Co. in Denver. Because of a serious illness resulting in failing health he was forced to retire in 1972. He died in Sept. 1978. His wife continues to reside in Colorado.
Mrs. Anna Nyquist is a faithful and active member of the Wesleyan church also served the community in many unselfish ways. She disposed of her home in 1958 and lived with her daughter Ingeborg. She passed away in Nov. 2967 at the age of 86.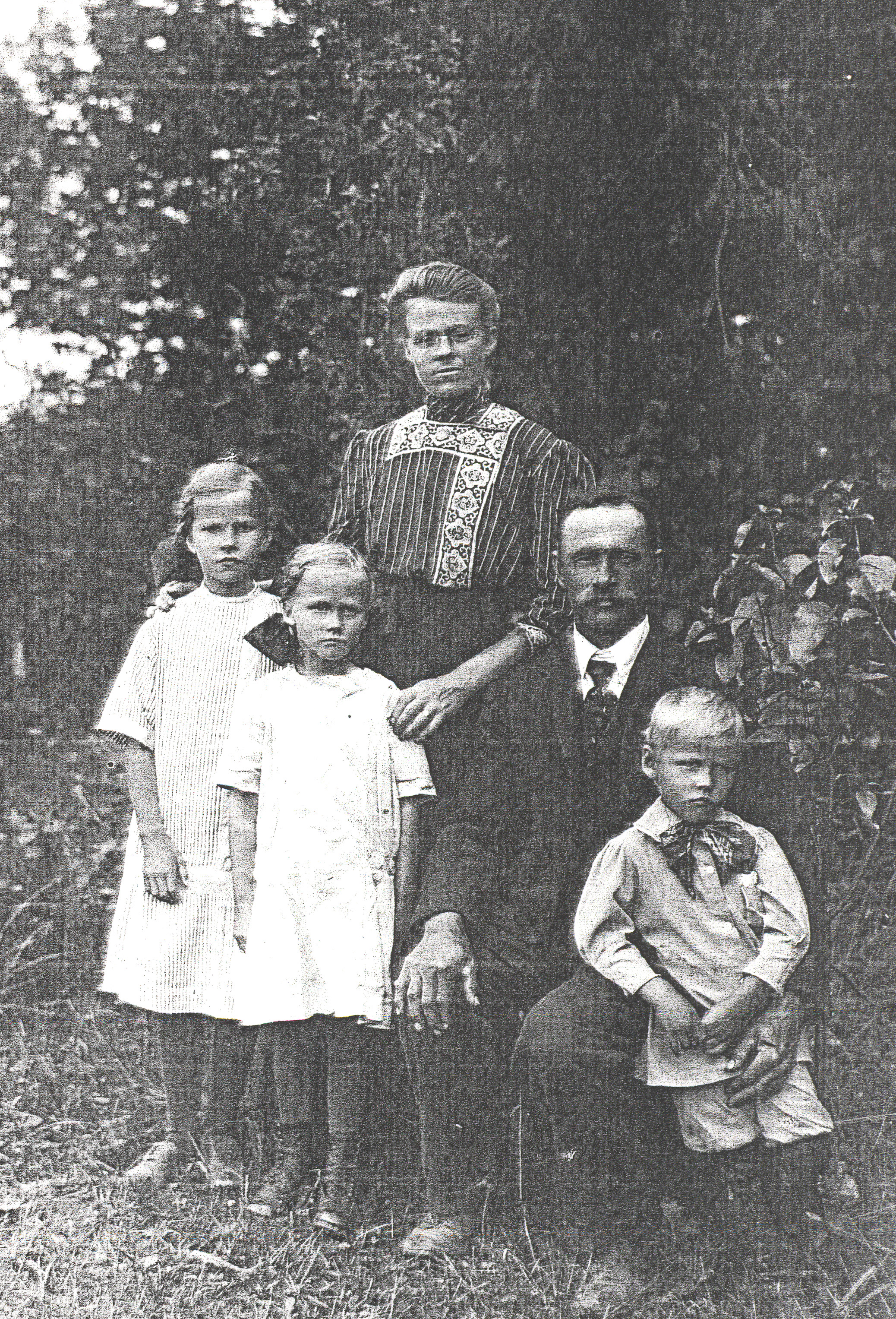 Letter to community regarding Nyquist Cream Station
JUNE 7, 1924
To Cream Producers.
Mrs Anna Nyquist, operating our station for us in your town, is continually working for the improvement of market conditions, with your interests at heart. She is handicapped, for reasons well known to you. We trust that you have appreciated her efforts and her earnest desire to continue the battle for existence by giving her your business.
We feel that we have in the few yhears that we have been espablished in your town, proven to you that our business principles are most liberal, and that we see to it that the price for cream at Almont is as high as it is elsewhere. We feel thgat the p[rice we maintain nets yhou ass much money in twleve months of the year as you can possibly get marketing you cream elsewhere.
Mrs Nyquist is very efficient in her work, and capable of completing the handling of each dleivery of cream from you in such a way that when you receive your check you can feel confident that you are paid for the actual fat content of your delivery of cream.
Competition may come and go, but if you can see fit to patronize ouor station, you will find Mrs. Nyquist will stay with you indefinitely, thereby assuring you of the continuance of a good, liberal market.
If there is anything about the operation of this station that is not entirely satisfactory to you, report it to Mrs. Nyquist, or if you desire, write direct to us. Your letters will receive prompt attention.
Yours very truly,

THE NORTH AMERICAN CREAMERY COMPANY.
Paying a Debt
O.C. Ellingson owened a grocery store in Almont. They then moved to Bismarck in the early 1920's. Grandma Nyquist had a bill at the Ellingson store of $160.00 that wasn't paid when he moved to Bismarck.
My grandma worried about it and saved a long time to pay the bill. Anna Nyquist asked her son-in-law Oscar Hoger to take her to Shark's Men's Store in Bismarck so she couold pay the bill. She told Mr. Ellingson she came to pay the bill. Mr. Ellingson didn't remember she owed him. He took Grandma Nyquist hand and with tears running down his face, and said "I didn't know there were such honest people".
To Almont
There's a quaint little village, far out on the hill
It's not bedecked with any of fancy or frill
The growth has been slow and always of toil
And all that is gained is wrested from soil.
The streets are plain dirt and it boasts no Times Square
But there is an air of peace and hospitality there.
No skyscrapers are seen and the buildings are old and gray
But they always shelter a weary traveler on the way.
The natives are just plain common folk
And as to a wheel each man is a spoke.
Shopkeepers live on the profit of honest gain
Laborers, through toil their existence claim.
No marbled halls nor splendors do they aspire
Nor dream that their village will be the first city of any empire.
So even though they seek not for fortune and fame
They still know they have a definite place on the plain.
By Henry Nyquist,
Written as a tribute to Almont by one of her sons.