Almont North Dakota
1906 Centennial 2006
Almont Centennial Program
Presented on July 4th and Sept. 4th 2006
Written by Margie Peterson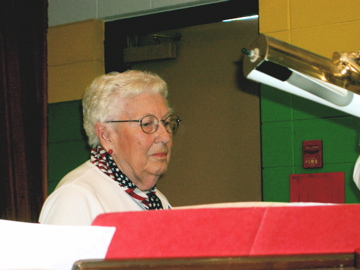 (Many skits were done on stage during the program, only a few which are mentioned)
PRESENTATION OF THE FLAG
NATIONAL ANTHEM: "The Star Spangled Banner" Andy/Nick Bachler on Trumpet and the Audience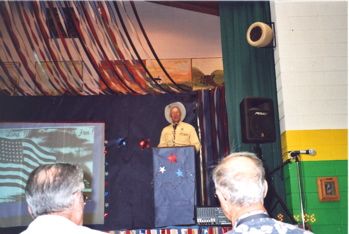 EMCEE: (Gloria Doll was EMCEE for the 4th of July and Rodney Nelson for Labor Day.) "Thanks to everyone who has come "back home" to celebrate. Today, July 4, 2006, marks two very important dates; the birth of our great nation, the United States of America, AND the 100th birthday of our town, Almont! What a Day to Celebrate!!!!
Chorus
Celebrate! Celebrate!
Almont's 100th birthday
The best little town in the state!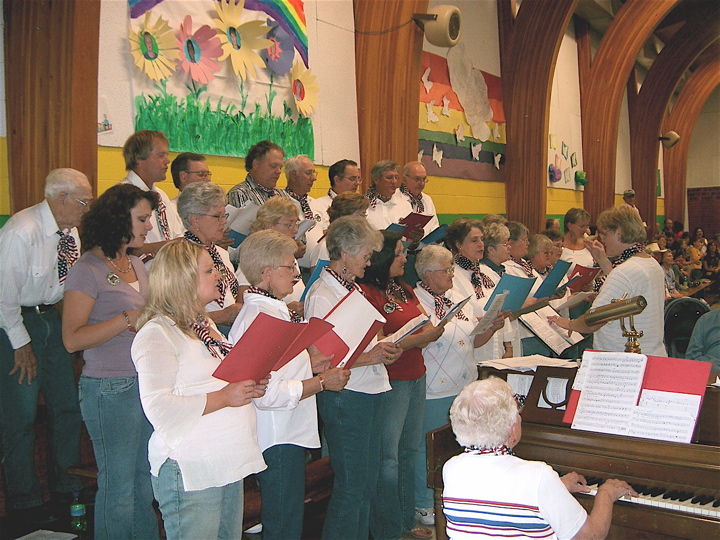 One hundred years ago, E. W. Hyde, an enterprising young man from South Dakota, set his sights on establishing a business to serve the people in the "new west". He and his partner, J. W. Burt, traveled the Northern Pacific Railroad west until they rounded a corner called "Rattlesnake Curve", and came upon a railroad siding called 'Almont'. There was a telephone at the siding, connected to the Heart Rover Hotel 12 miles south, where land seekers stayed while applying for homesteads. Land agents set up an office there, too. To Hyde the Almont siding looked like an ideal spot to set up a lumber yard and elevator, and to start a new town!
On July 4, 1906, nine block of the future city of Almont were surveyed by the county surveyor, assisted by Mr. Hyde, his partner Burt, E. E. Templeton and two other locals. The town was laid out parallel to the railroad, with streets running diagonally to section lines. What a beautiful setting; a town set in a beautiful valley, surrounded by beautiful hills.
Chorus:
'Down in the Valley'
By July 15, 1906, Hyde had unloaded several carloads of lumber at the Almont siding and the American flag was raised to recognize that a new town, Almont, was born and "on the map". (Men raise a flag on stage.)
Chorus:
'You're a Grand Old Flag'
It is quite an honor to have the son of Almont's founder with us for the 100th anniversary celebration. Dr. Duane Hyde of King City, CA. please stand along with the rest of the family (27 in total on Labor Day) and be recognized. Duane Hyde: Duane spoke of his parents and their love for Almont and the people who made the community. He recognized the communities hardy outlook on life and recognized the tremendous success of the schools, whose graduates he said he would put up against anybody . He then thanked the people who stayed in Almont to live their lives and who made its long history and these recurrent celebrations possible.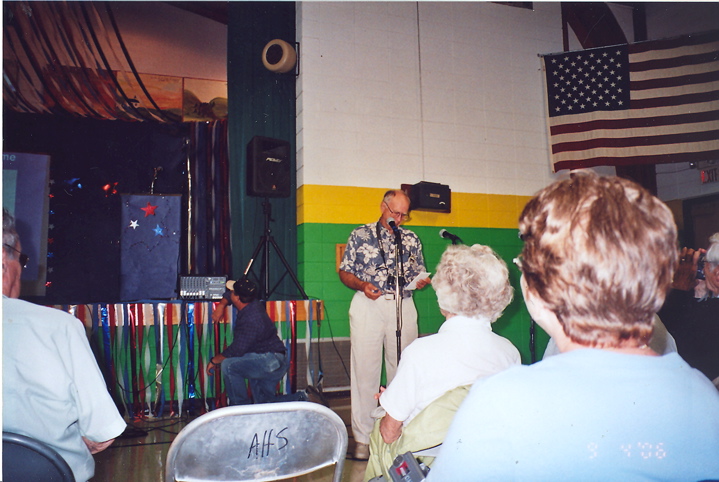 E. E. Templeton was also in Almont at that time. He was a land agent in the area. He helped raise the flag on the 15th and was Almont's first postmaster. His son Gordon, of Lincoln, NB. is also here today and has a few comments to make. Gordon spoke of the early years in his life and what it was like growing up in the community. He recognized that values he learned here and the way he was prepared to deal with life in later years.
We have three other sons of Almont's first businessmen that we'll hear from soon. The town of Almont sprung up by leaps and bounds. By the end of 3 weeks, 5 businesses were in operation, including a lumber yard, grain elevator, hotel, restaurant, and general merchandise store. It was time to celebrate!
Chorus:
Celebrate Celebrate
Its time to Celebrate
Almont grows by leaps and bounds
This fastest growing town in the state
On August 12, 1906, they had a big celebration. Almont was only about three weeks old! People arrived from all directions, anxious to see the town and take part in the festivities. The day began with a non-denominational church service in the new lumber yard shed, arranged by Mrs. Hyde. (Stage activity to recognize this event)
Chorus:
'Blest Be the Tie That Binds'
'Sims Gals'
'A medley of Gospel Songs'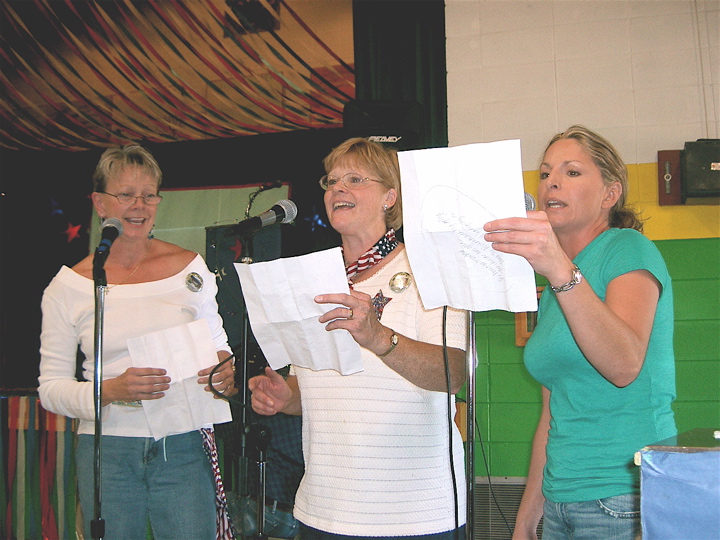 A 24 piece band, from east of Almont, played during the day and an exciting ball game between Almont and Sims was played that afternoon. Almont boys, playing in overalls, won the game in the 10th inning. (Boys play catch on Stage)
Chorus:
'Take Me Out To The Ball Game'
Almont celebrated their 1st anniversary August 12th and 13th, 1907. The Valley Forge Band played and activities included baseball, foot and horse races, a dance and oratories by Simon Peterson and Attorney Campbell. By this time there were 25 businesses in operation. One of the merchandise stores was run by C. A. Knutson. (Editors note: Mr. Knutson is listed in the 1900 U.S. Census as living in Morton County.) His sons, Howard and Vernon, are here today. Howard spoke of his early memories and experiences of Almont. Other businesses included the Farmers State Bank, operated by G. H. Anderson and N. E. Becklund. (Have you noticed that all the businessmen, and others, used initials instead of their first names?) Four sons of N. E. Becklund are here today, Warren, Wayne, Thornton and Roger. Roger Becklund spoke briefly about how their father came here in mid August in 1907 and came to love the town, the people in it and the values of the community.
The first hardware and implement store was started in 1907 by Jens Nelson and Sons. One of his sons was Lawrence Nelson. His son John Burton Nelson is here today (Illness kept him away from the July celebration but he was here over Labor Day.) Burt spoke about his love for the community and the state and even after all these years he still gets goose bumps and tearful when he crosses into the state of North Dakota.
The first years in Almont were exciting and interesting, it's great to have some of these first families with us. Thanks for sharing your stories with us.
Sue Bachler solo:
'Thanks for the Memories'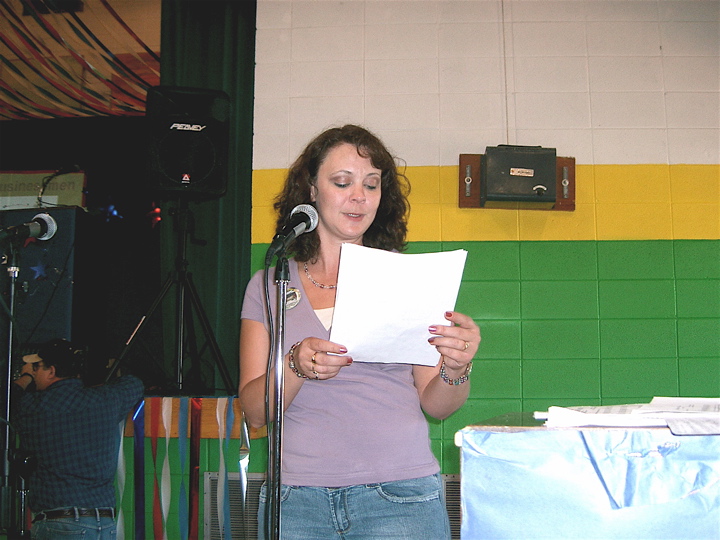 Did you know that the only highway running from the east coast to the west coast went through Sims and Almont? It was called the Red Trail, probably because it was surfaced with scoria.
Chorus:
'In My Merry Oldsmobile'
In 1927, the state highway department cut a road through the hills from New Salem to Glen Ullin, abandoning Almont and Sims. It was called Hwy. #10.
It is quite interesting to know that the Almont Commercial Club was organized in 1908 and has continued since that time. Their first order of business was to dig a city well and get a fire engine (hand pulled). They also felt they needed a jail. (Almont must have been a little wild!) The jail was made up native rock and still stands in Heritage Park. I think they only had one "jail bird", and rumor has it that it was a cow! The first Sheriff was a cowboy from Texas, Ben Bird, who also ran a stage from Almont to Carson. He was one of the first inductees into the ND Cowboy Hall of Fame in Medora.
Chorus:
'Home on the Range'
Almont has always been a western town, proud of their cowboys where a cowboy really feels at home, Many rodeos and horse races have been held at Almont. Western garb has always been in style.
Cowboys sing:
'Don't Fence Me In'
Through the years, Almont has celebrated many anniversaries. The 10th was celebrated on July 4, 1916 with an estimated 1,000 people and 200 automobiles! The 40th anniversary was held in August of 1946 with a parade, airplane rides, a free movie and dance, and a rodeo on the second day. E. W. Hyde spoke at the rodeo urging everyone to "hang in there and keep Almont alive"! (A banner 'Keep Almont Alive is carried across the stage)
The 50th anniversary was held August 2nd and 3rd, 1956, honoring four original Almont Businessmen: Hyde, Templeton, Becklund and Knutson. The day was dedicated to pioneers and 'old-timers'. The rodeo on Sunday honored former cowboys.
Almont's 75th anniversary was held in June, 1981. The motto was "75 and Still Alive!" Activities included an all-faith Sunday service at the school, an all-class reunion, a three hour pageant entitled, 'Almont in Review' was presented by a cast of more than 100 people. The streets were filled with folks who had come back home.
Grant and Sheri Johnson:
'Its Just a Little Street'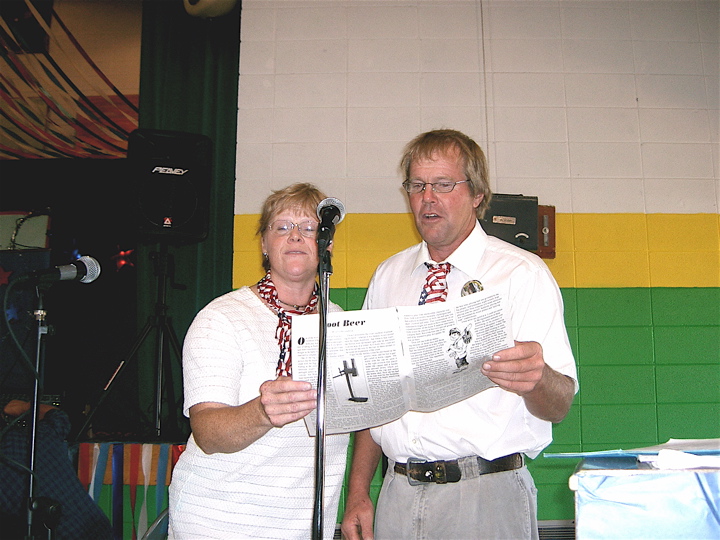 Vernon Knutson, has 'come back home' to Almont nearly every year since he and his family moved to California in 1956. A song we've always enjoyed hearing him sing is, "Green Grass of Home". We are looking forward to hearing you sing it again, Vernon.
Vernon Knutson:
'Green, Green Grass of Home'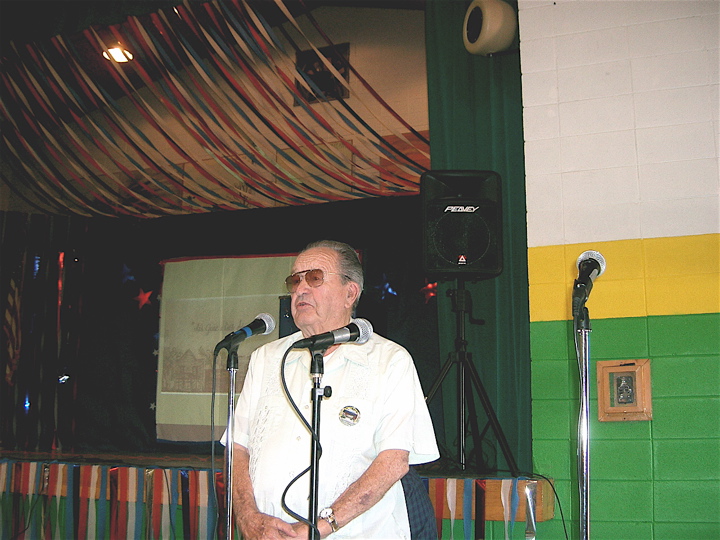 Almont enjoyed their celebrations with all the folks coming back to the green, green grass of home! (This year we are praying for rain!!!)
Almont had good times those early years, but they also had some serious setbacks. Several fires burned many of the business buildings. In 1915, four businesses were burned to the ground and many others were threatened. The little hand-pulled fire engine couldn't begin to handle the fire, so people formed a bucket brigade and the town was saved!! (Bucket Brigade formed on stage.)
Chorus:
'Fire, fire, Almont's burning
Pour on water, pour on water'
Yes, the fires were bad, but the fires of war in Europe were worse. Kaiser Bill was going to take over the world, but that was before the Almont boys got over there. (Uniformed men come on stage ready to leave.)
Chorus:
'Over There, Over There"
Our boys showed them up and the war ended to end all wars....or so we thought! But then in the 40's, eighty-six young men and women left Almont for military duty and fought hard for our freedom in World War II and again in the Korean War, Viet Nam, Gulf War and now in Iraq and Afghanistan. We pray that war will soon end....to end all wars.
Memorial Day has been observed in our community since 1946, paying tribute to fallen comrades and veterans still with us. The program for that day is sponsored by Almont Legion Post 261 and the Auxiliary. At this time, we wish to honor all veterans that are present with our Military Salute. Veterans, please stand as the song from your branch of the service is sung.
Chorus:
Medley of songs representing each service branch.
Almont had a serious setback in 1947 when the Northern Pacific Railroad built a shorter route, cutting through the hills from New Salem to Glen Ullin, leaving Almont and Sims without rail service. What a blow, as everything was hauled by rail in those days. The last train to go through Almont was the evening of December 6, 1947. The engineer blew a sad farewell as the train disappeared out of sight, going west.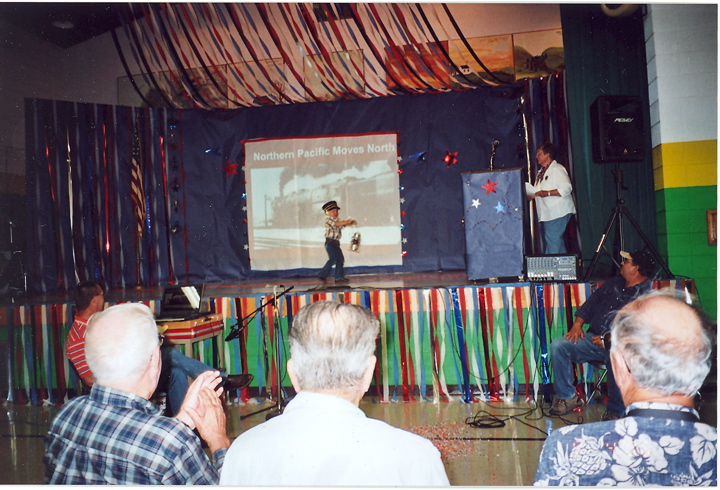 Chorus:
'Toot, Toot, Tootsie Goodbye'
North Almont was established by the railroad with a small depot. Two elevators were moved there, but no other businesses moved north. In a few years, the depot closed. It is now in Heritage Park.
Other setbacks were the floods. Almont's little creek overflowed its banks more than once. 1950 was bad, but 1966 was much worse. Residents were forced to leave their homes for higher ground as the town was completely inundated. No place was spared, and row boats were the only means of travel. (Small boat pulled across the stage.)
Chorus:
'Row, Row, Row Your Boat'
In 1971, a dike was built around the town which has assured Almont against further flooding. 1971 also marks the year that Almont's founder died at the age of 99 and a half years of age. He will be long remembered.
Despite the setbacks, Almont didn't give up. They took Hyde's advice to "Hang in there and keep Almont alive!). New buildings were built including the Legion Hall, new Post Office, Memorial Hall, a large gymnasium and additional classrooms were added to the Almont School. Almont also got city water and a sewer system and the streets were transformed from gravel to black top. AND--Almont got hooked up to Northwestern Bell....No more 'rubbering'!! Almont was honored to have the Governor attend the 'switch over' ceremonies.
In the 80's Heritage Park was established and is now filled with old buildings and machinery and a big museum filled with local antiques. The Mini Mart was built and houses two businesses, a fitness center and a wallyball court, which have been very popular. You may find the Muddy Creek cloggers practicing their routines there.
A loss of population in the area has had its effect on both businesses and the Almont School. Declining enrollment made it necessary to close the High School in 1988. Since then, the High School students have been attending New Salem High School. Through the years, we've had a students to be proud of. Our students have been, and are, very outstanding in both academics, sports, and other organizations.
Cheerleaders:
Sing Almont Rouser Song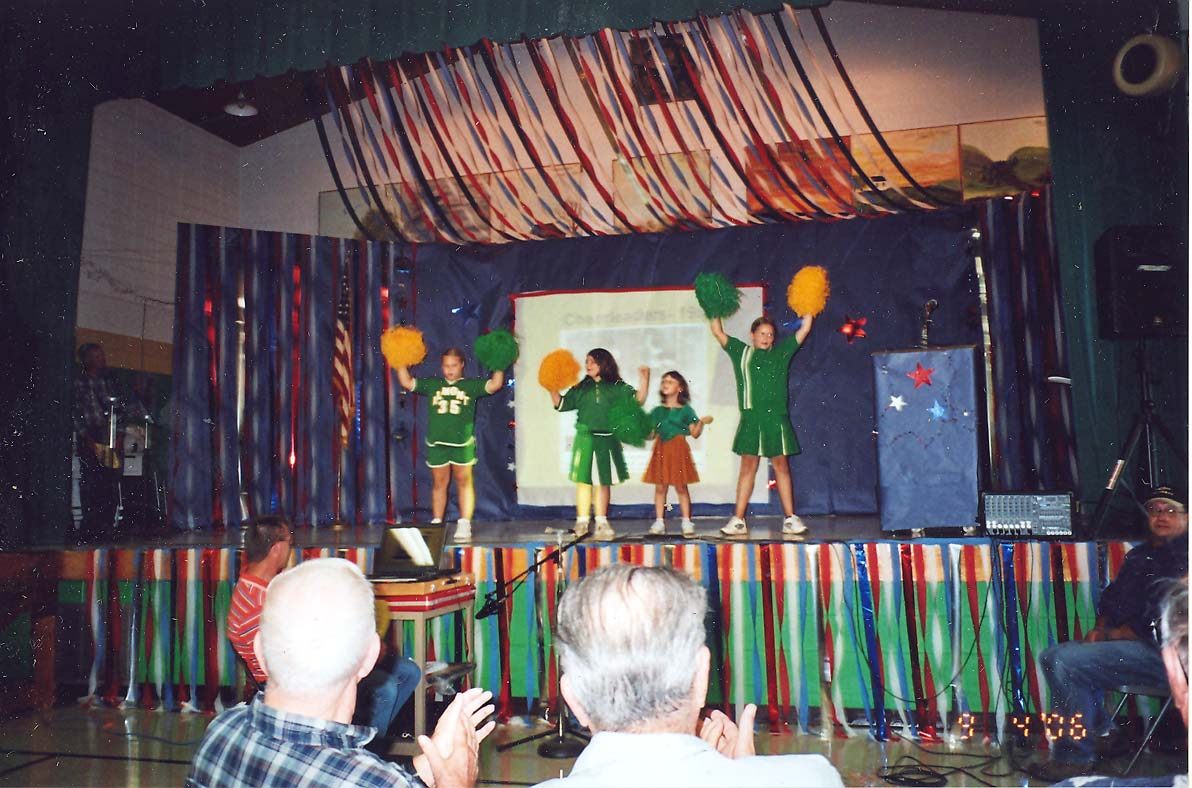 Two annual events have kept Almont 'on the map'. They both attract people from far and near. The Labor Day Reunion, which started as a Steam Thresher Demonstration Day, has continued to bring thousands to Almont every year. The weekend activities have changed some, but there is always a Threshing demonstration, a parade, street races, horse events, and a musical program, which always featured the Fiddlers. I think that Sig (Peterson) is the only one left of the original group.
Fiddlers:
Play a medley of songs.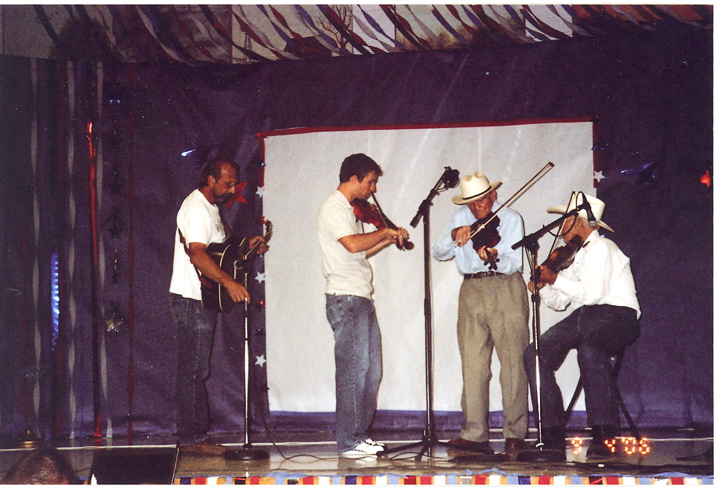 The other popular annual event is the Lutefisk and Lefse Supper, held the first Saturday in November since 1947. 800 to 1000 hungry people continue to come back every year for the fish that's cooked to perfection and the friendly atmosphere.
Sig Peterson:
'Lutefisk Song'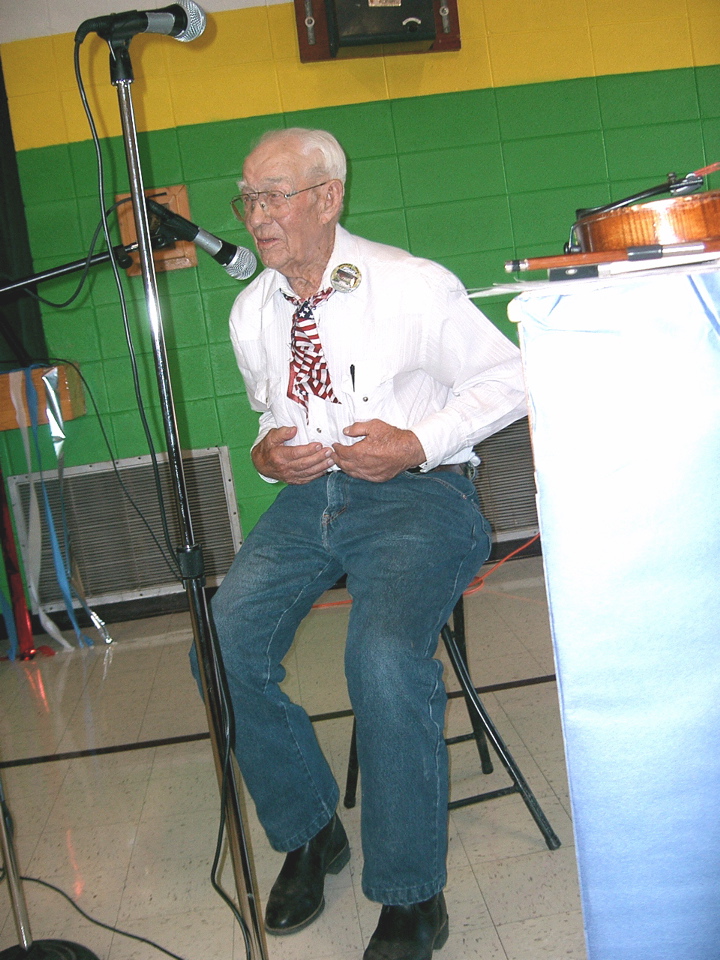 We've suffered setbacks and a loss of population, but recently we have seen some restoration of some of the oldest buildings on Main Street. The Nelson-Templeton Implement Store was restored by Martin Doll and the Kelsven Store and Old Hotel, now the Sunflower Inn, has been a ten year project of Keith Pitman of Alabama. Keith's roots are in Almont, and now we consider him an active member of the community--always willing to lend a hand.
(Time capsule--July 4th only)
And now , a moment we've been waiting for....the revealing of the time capsule that was put together by Almont community members back in 1970's. (the time capsule was opened and several items read to the audience, the rest will be available in the museum.)
Through the years, a spirit of cooperation has prevailed and our community has held together, in spite of the hardships and setbacks we've had to endure. We have worked together, prayed together and Almont is still on the map! Our motto this year is: 'One Hundred Years--We're Still Here'
Audience sings Happy Birthday to Almont.
(A birthday cake is brought on stage during the singing)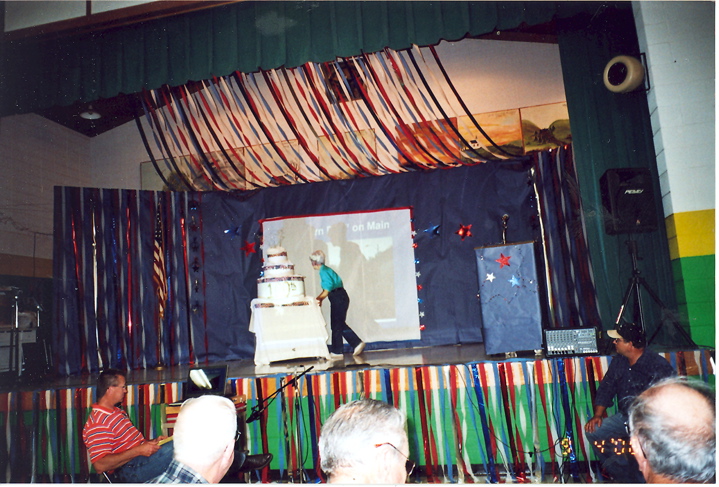 Chorus:
Almont, Almont, hats off to you,
To our town we'll always be proud and true,
Firm and strong united are we,
U-rah, U-rah, U-rah, rah
Rah, rah, rah, rah,
Hats off to dear Almont!
This Land is your land, this land is my land
From Sims and Almont, to the big Heart River,
From the Rocky Ridge to the Curlew Valley,
This land was made for you and me.
My home is in North Dakota, of the USA
And I love North Dakota, more and more each day.
There's something about the prairie
That stills my yearning to roam,
My home is in North Dakota,
North Dakota, my Home Sweet Home.
Finale
Entire room sings 'God Bless America'.